Hot Shut-off
- or the "Molotov shut-off"
The next idear for a shut-off valve with no moving parts is to block the flow by creating a gas bubble in the fuel line.
A heating element in the fuel line shuld be able to boil some fuel and create a gas bubble. If the boiling can continue for a couple of seconds it should be enough to kill the engine.
The pressure from the boiling fuel will press the fuel back in the latex tube and press some of gas thrugh the needle valve. Only gas will be able to pass the heater.
At athmospheric pressure Methanol will boil at 65 °C and Nitromethane at 100 °C but with the pressure from the latex tube the boiling temperature for the Methanol will probably be around 80 °C. Castor oil will boil at a temperature higher than 313 °C
To test the idea I built a simple system with some brass tube and a piano spring. I sat up an experiment with some fuel in a latex tube and an old needle valve. As I turned up the power the heater started to boil the fuel and the flow was stopped. The power needed to block the fuel flow was approximately 20 Watts.
This experiment suddenly became more thrilling than expected when I realized that the piano spring was glowing inside the fuel line!
This device has the potential to transform a fly-away model into a free flying Molotov cocktail!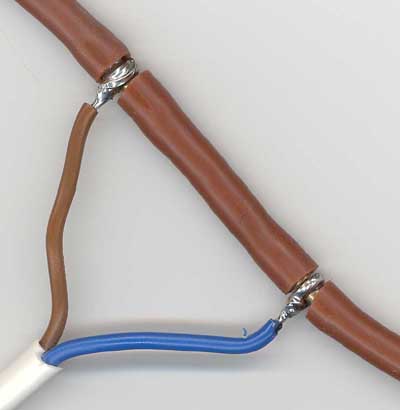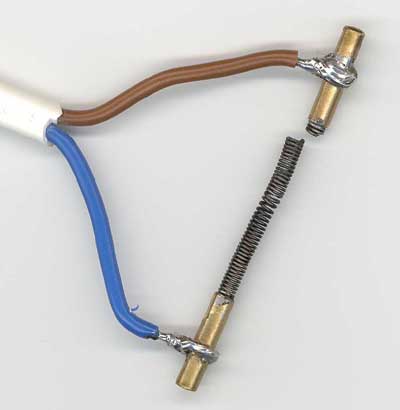 A fuel line with an electric boiler. The piano wire spring was burned in the first test!
This winther I took the experiment to the flying field and gave it a try on a real engine.
You can see the result on this video clip.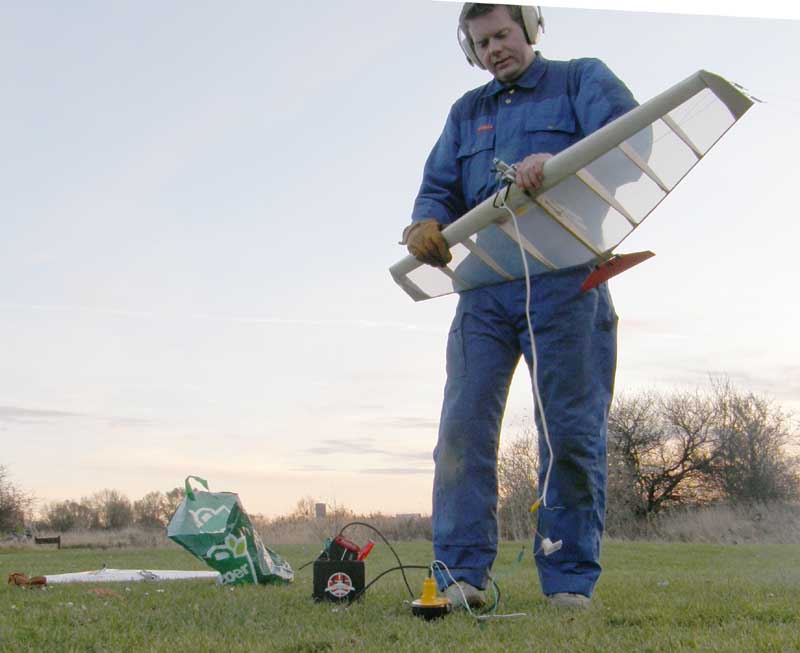 A test of the the "Moloto shut-off" on a running engine. See the video.
To improve the system I also made a smaller heater with the steel tube from a syringe needle. I never tested this device but with the smaller mass it should be able to block the flow with less power than the piano spring version.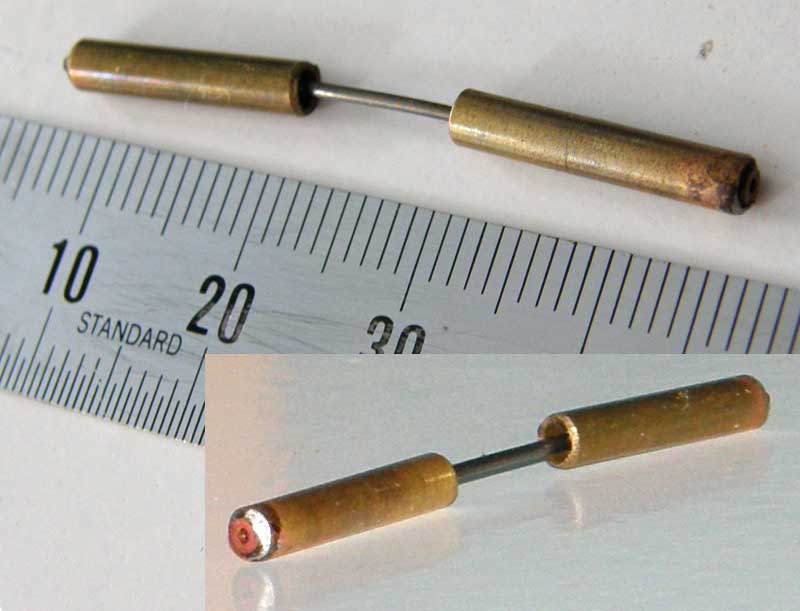 A smaller heater with a steel tube from a syringe needle
The power for the heater could come from a Supercapacitor.
A MOSFET transistor in a TO-220 package could be used to regulate the heating. The power loss in the transistor will probably be so big that the transistor can be used as fuel heater. If the transistor comes with an internal heat protection the system could be made just as a simple short circuit!
Supercapacitor from Wima and Heter and the TO-220 packages
-----ooo000ooo-----
---
Nitro Shut-off
An even wilder idea for a valve with no moving parts could be to combust some of the fuel in the fuel line to generate a gas bubble.

A spark or a hot catalysator in the fuel line might crack some of the Nitromethane and give free oxygen. This oxygen could feed a small combustion of the fuel and result in a gas bubble in the fuel line.

Nitromethane could be decomposed by Pyrolysis or Thermolysis in the high tempature of the spark
I'm not strong in chemistry and don't know if this is possible but the fuel could be an alternative source for energy to activate a shut-off valve.

-----ooo000ooo-----
---
PS:
- I actually don't think that any off these ideas will be a practical solution for a shut-off valve, but it is my hope they can inspire others pilots to come up with new ideas.

Henning Forbech